The sport of diving provides plenty of variety. Whether you are looking for a gentle swim, or whether you are more adventurous, there's a type of diving that is right for you.

You can dive in temperate waters or tropical waters; you'll get a different experience in each situation. In temperate waters, the life below the water's surface is just as interesting, though it isn't as colorful. Visibility and surface conditions are not always good in temperate waters, which make exposure suits and fitness extremely important. Tropical waters, by contrast, are more relaxing. Tides and currents are usually mild, and the sea is calm. While shipwrecks are the most popular temperate water destination, those who dive in tropical waters are often looking for the opportunity to view local sea life.

Scuba Diving in Tropical Waters

There are several different ways to dive. You can choose to dive from a day boat, in which you enter the water by forward roll or long stride entry. Those diving from day boats should be prepared and able to handle strong currents.
Live-aboard diving allows divers to reach remote offshore reefs and wrecks. There are no long swims and there is less carrying of heavy equipment. There are fewer restrictions on live-aboards, and while they appear to be more expensive, you get more dives for your money, plus food. Live-aboards offer up to five dives per day, tides and currents permitting. Explorer Ventures offers live-aboard diving adventures; Aqua Cat Cruises and the Sand Dollar dive boat operate in the Bahamas and California, respectively.
Drift-diving allows you to follow the current while you dive, while night diving allows divers to better view predators. Wreck diving is a popular form of diving but requires some advanced knowledge of diving, as entering wrecks can be dangerous. Cave diving allows the diver to enter caverns, but again should not be attempted by the novice as it requires exceptional planning and trebling of equipment. Deep diving, in which the diver goes to depths below 30 meters, requires special planning as well as special equipment, such as enriched air nitrox and rebreathers.
Scuba Diving Resources
---
Copyright © Zeducorp.
All rights reserved.

Scuba Diving - How and Where to Scuba Dive
Related Images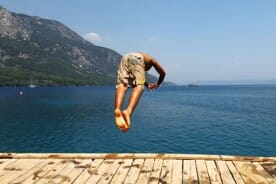 Diving Into The Sea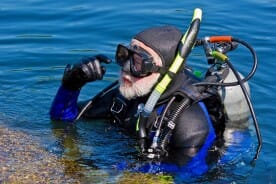 Scuba Diver Wearing Scuba Equipment